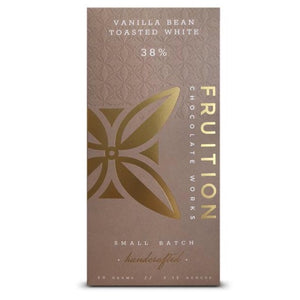 Imagine an enticing, rich bar of gold boasting flavors of dulce de leche and brown butter with a kiss of vanilla. Please meet the Fruition Vanilla Bean Toasted White Chocolate Bar 38%...indulgent, comforting and quite possibly your new best friend. This bar is lovingly handcrafted with Los Bejucos cocoa butter from the Dominican Republic for your tasting pleasure. As Mary Berry of The Great British Baking Show would say, "That's a bit of all right!!!" This bar makes a sublime dessert and pairs beautifully with fresh strawberries!
International Chocolate Awards World Silver Winner, 2013
Fruition Chocolate Works specializes in small batch craft chocolate. At Fruition, they begin by selecting ethically sourced and flavorful cocoa beans. Using traditional and modern techniques, they handcraft their award-winning line of chocolates and confections with an eye to detail.
Watch this video for more about Fruition Chocolate Works.
Bryan Graham is the founder of Fruition Chocolate Works and Confectionery and has educated himself on the science, technique, and craft of handmade chocolate. In 2013, Bryan was named Top 10 Chocolatiers in North America by Dessert Professional Magazine.  He is well revered in the craft chocolate industry, and continues to be recognized winning a multitude of awards including Good Food Awards, Academy of Chocolate Awards, and International Chocolate Awards.
Fruition is among the 13 favorite USA craft chocolate producers recognized in Melissa Clark's February 2020 New York Times article for the extra attention their team devotes to sourcing beans, forging positive relationships with growers and treating the planet with extra loving care.

Ingredients: Organic Cocoa Butter, Organic Cane Sugar, Whole Milk Powder, Vanilla Bean, Salt
Net Weight: 60 g./ 2.12 oz.
Country of Origin: USA