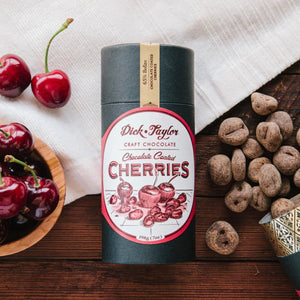 Mouthwatering, delectable, irresistible! Congratulations, you found the perfect treat! The Dick Taylor team specifically selected dried tart cherries grown in Michigan for their luscious, complex flavor that pair magnificently with their award-winning 65% Belize dark chocolate. I call it perfect because the pleasant acidity of the cherries is so beautifully complemented by the rich tones of the chocolate that has brownie notes. The cherries are enrobed in several layers of this chocolate loveliness and then tumbled in cocoa powder. Sometimes I simply grab a small handful and savor them with delight. I also add a few, along with the Dick Taylor Chocolate Covered Almonds and the Fruition Maple Cinnamon Milk Chocolate Pecans, to uplevel my granola bowl, making it one of my most cherished desserts!

Best in Confections Winner 2023 at the Northwest Chocolate Festival
Adam Dick and Dustin Taylor are friends who together created Dick Taylor Craft Chocolate in 2010. These two love to work with their hands and have a background in woodworking and boat building. The concept of "craft" has always been a guiding principle in their lives and they found themselves drawn to the similarity between building with wood and crafting artisanal chocolate directly from the bean.

Adam and Dustin continue to build their business and craft their chocolate in Eureka, California with the same values that inspired them years ago. Relying on the finest fairly-traded organic cacao and organic cane sugar, they are purists. Their goal is to capture and highlight the subtle flavor nuances in the cacao they source from all over the globe.
Dick Taylor is among the 13 favorite USA craft chocolate producers recognized in Melissa Clark's February 2020 New York Times article for the extra attention their team devotes to sourcing beans, forging positive relationships with growers and treating the planet with extra loving care.

Ingredients: *Cherries, *Cacao, *Cane Sugar, *Cocoa Butter, *Sunflower Oil   
* Organic
Net Weight: 199 g. / 7 oz.
Country of Origin: USA