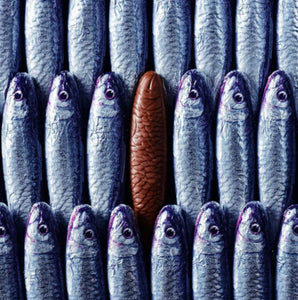 Fresh fish! Get yer fresh fish here! Chocolate sardines, to be exact! I never thought I'd be a chocolate fishmonger, but I couldn't resist these lifelike and adorable solid fishies that are absolutely delicious in both 39% milk chocolate and 63% dairy-free dark chocolate, with absolutely no fishy ingredients! There's a drop-down above to choose whether you want to purchase dark or milk. If you would like a combination of both dark and milk chocolate sardines by the piece, no problem! Please just enter the quantity and be sure to indicate your specific preference in the "Notes" section of your order. These fishies are wonderful in goody bags or as a whimsical addition to a charcuterie board!
You may also buy these guys in all milk chocolate in their playful tin here 
The French take great pride in their sardines, but here in the U.S. they are not quite so popular. That said, these "sardines" will appeal to chocolate lovers of all ages, even if they wouldn't touch an actual sardine with a ten-foot pole!
Who came up with the idea of chocolate sardines? Chocolat Michel Cluizel, a French family-owned business that has been handcrafting chocolate from bean to bar since 1948! The company was started by Michel's parents, Marc and Marcelle, who originally made pastries in the town of Damville in Normandy.
Eventually they were drawn to work with chocolate and Michel joined the company as an apprentice. The business grew and the family opened up their first shop in Paris on Rue St Honoré. There are now three shops in Paris and a chocolate factory and museum in West Berlin, NJ. Tours are back so pay a visit if you head out that way. Local customers, this is not terribly far!
Chocolat Michel Cluizel is committed to quality. They meticulously source their ingredients and have formed strong partnerships with 7 plantations in the following countries: Guatemala, Brazil, Santo Domingo, São Tomé, Madagascar, and Colombia. Cluizel  produces exquisite single origin bars from the plantations' fine flavor cacao beans that highlight the distinct terroirs from which they hail,  just like wine grapes. The Cluizel commitment to high quality also means they never use GMO ingredients in any of their chocolate delicacies. Barometer Chocolate proudly offers you several of the Grand Cru Cluizel Bars.
Ingredients: Milk Chocolate Ingredients: Cocoa 39% Minimum, Sugar, Cocoa Butter, Whole Milk Powder, Cocoa, Emulsifier (rapseed lecithin), Bourbon Vanilla Pod
Dark Chocolate Ingredients: Cocoa (Minimum 63%), Sugar, Cocoa Butter, Emuslifier (rapseed lecithin), Bourbon Vanilla Pod
Net Weight: 14 g. / .5 oz.
Country of Origin: France